Skin needling, micro-needling or collagen induction therapy (used to be called Dermaroller) is a minimally-invasive and non-surgical procedure for facial rejuvenation that involves the use of a Derma-pen device to create controlled skin injury.
As each fine needle punctures the skin, it creates a channel or micro-wound. The controlled injury triggers the body to fill these micro-wounds by producing new collagen and elastin in the skin. It leads to reduction of scars and skin rejuvenation, i.e., improved skin texture, firmness and hydration.
Professional skin needling is considered to be one of the safest skin treatment procedures. It causes minimal damage to the skin.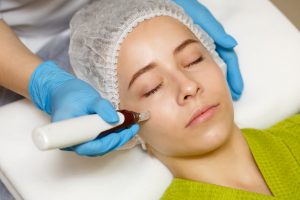 Dermaroller is used for acne scar regeneration, fading stretch marks, reducing fine lines and deep wrinkles and tightening sagging skin. It can be combined with Dracula Therapy (PRP), Dermal fillers or Wrinkle injections.
It is safe on dark skin and is also suitable for thin or sensitive skin. The procedure is well tolerated and well accepted by the patients.
For better comfort, a numbing cream is applied to the treatment area for 45 min prior to the treatment.
A minimum of six weeks is recommended between treatments to allow the new natural collagen to form. Rejuvenation of skin may be seen as soon as 2 weeks and as long as 6-8 months after the medical procedure.

After Dermaroller treatment
Dryness, scaling, redness and swelling may be seen after treatment, lasting for several days, depending on the depth of penetration of the needles. Sun protection for several weeks is recommended.
Three treatments are recommended to start with, then 1-2 treatments per year as maintenance.
Cost: One session £350, three sessions £840
For more information contact the clinic or book a Free Aesthetic Consultation with Dr Bela straight away.
DISCLAIMER: Individual results and their perception will vary from person to person. Specific results thus cannot be guaranteed. Please read the Disclaimer and Privacy Notice at the bottom of this page.