Mesotherapy introduces small quantities of readymade cocktails of pharmaceuticals, vitamins and minerals into the skin to help it rejuvenate and repair itself. This is performed using very small needles with a so-called meso-gun which allows very precise injection of the medication in certain quantities and at certain depths of the skin.
Mesotherapy is most commonly used to treat and alleviate hair loss or simply rejuvenate the skin. It can be combined with Dracula Therapy (PRP), Dermal fillers or Wrinkle injections.
The procedure involves minimal recovery time. Following the treatment, you can return to work the very same day.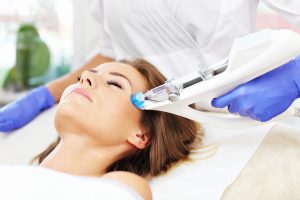 Some patients can expect to see results after the first session, though many will be expected to attend two to three mesotherapy sessions before results are visible.
While the process can be slightly uncomfortable, a local anaesthetic can be administered if necessary.
Six treatments are recommended to start with then quarterly treatments as maintenance.
Cost: One session £150, three sessions £720
DISCLAIMER: Individual results and their perception will vary from person to person. Specific results thus cannot be guaranteed. Please read the Disclaimer and Privacy Notice at the bottom of this page.