Ildiko has been having Botox and Fillers for some time. Due to the Covid travel restrictions, she wasn't able to see her regular doctor, therefore she decided to find another one.
Sign of Alarm
A friend of hers recommended a reputable looking prescribing nurse, Amanda Robertson. Recommendations generally work well as it is based on a good personal experience.

Her filler treatment took place at a private house. It should be a concern if the treatment takes place outside a professional clinical environment. It may be a bit cheaper, but more often than not, it turns out that 'cheap is expensive' as it happened to Ildiko. And come on, it is your face, it is your look, and most importantly, it is your safety.
She wasn't happy with the way she looked after the first treatment, so she went back. Amanda had more filler put in, however, it made her face even worse; Ildiko became desperate.
The treatment turned out to be out of proportion, the under-eye area became puffed up, and a festoon appeared.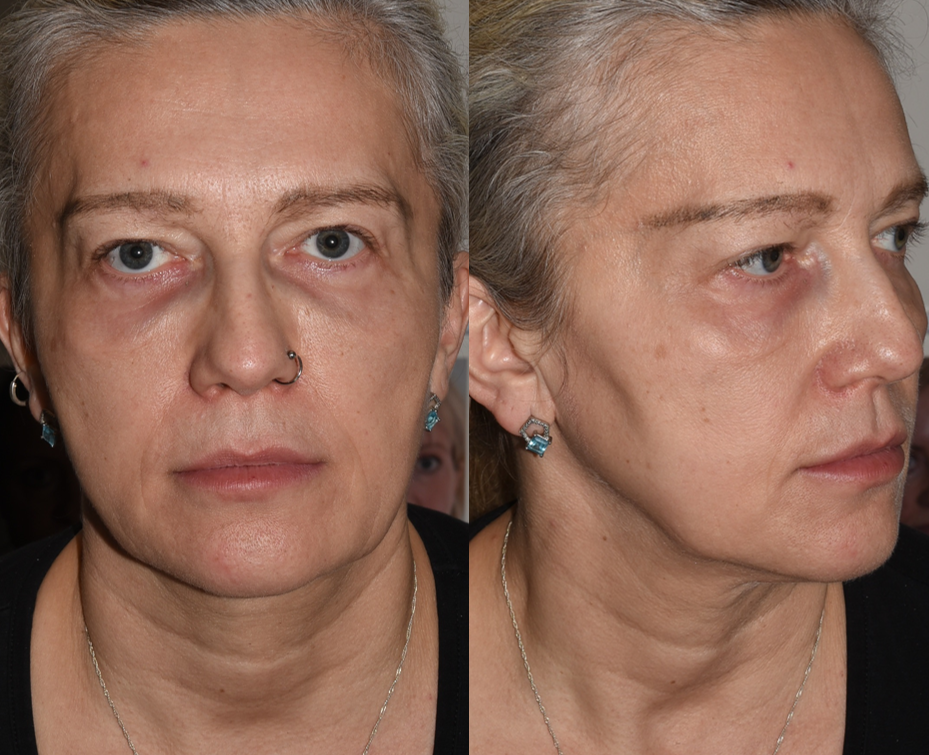 Ildiko tried to contact her at his point, but she disappeared completely; she didn't reply to any form of communication on any of her availabilities. Even the friend who recommended her wasn't able to reach her. (Imagine the same situation if she had had a vascular complication when timely intervention is crucial and the practitioner is unavailable.)
Ildiko is not the first patient who has come to me to correct their face after someone else botched it, but she has agreed for me to use her images; hence I write this post.
In Desperation
Feeling desperate and hiding behind big black glasses, Ildiko started to look for someone to fix her face. She found me on google. But, this time, she was more cautious and went into the details about whether she can trust me. She came for an initial aesthetic consultation which is always the first step before we do anything.
Cooling off
I have a strict rule for fillers: I never do the treatment on the same day of the initial consultation with a new patient. We talk through the possible complications, such as blindness, which is extremely rare, but irreversible and necrosis of a particular area of the skin, which is reversible. I believe that patients need to sleep a night digesting this information before making a decision. (Haven't you heard about this from your practitioner before your treatment? … then that is a problem.)
I do a lot of fillers, I have fillers, my wife has fillers, and I consider it as a great and safe treatment modality, but we need to make an informed decision about our look and health, so I never treat it lightly.
Treatment plan
When Ildiko first came to me, I examined her face. I explained to her that we need to remove the filler first, wait a couple of weeks for it to settle and then we can start to build it up again. She agreed to the plan.
When she returned for her Hyalase treatment, I injected an enzyme that digests the fillers and removes it in a matter of minutes.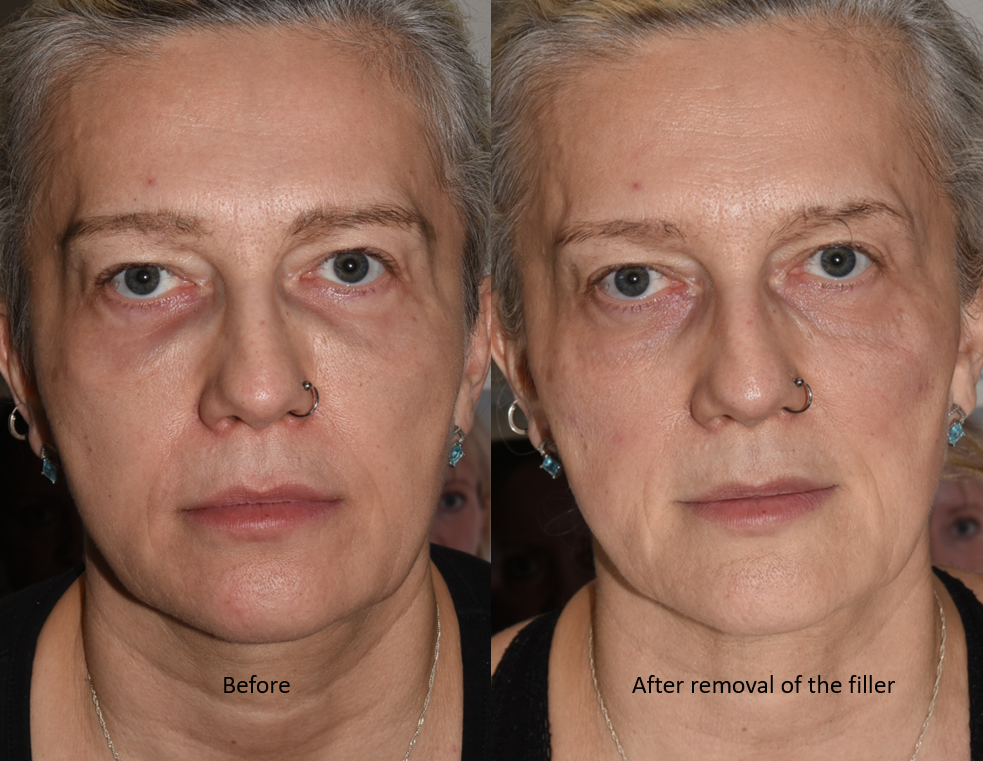 A few weeks later – she came back for her first treatment. I began her treatment on the cheeks and mostly the lateral part of the face. The cheeks are the backbone of the face: they support the upper face and lift the lower face. During her first appointment, I used 3 syringes of Juvederm fillers.
During her next visit, we focused on the perioral area: jawline, chin and lips using another 3 syringes.
And finally, just to complete her look, we treated her frown, forehead and crows feet with Botox as well.
Revival
As she regained her original look or even better, Ildiko was very happy. She said that she likes her look in the mirror again. She works in an industry surrounded by many men and younger people, so her look does matter to her.
Before-after images
Here I share Ildiko's images with her approval; thank you for that!
The first picture shows her original look after Amanda's treatment that I took during her first visit.
The second picture shows her face after the removal of fillers.
And the third picture shows her face after her treatment at my clinic with 6 syringes of Juvederm fillers (Voluma, Volux and Volift). We are yet to finish her treatment completely.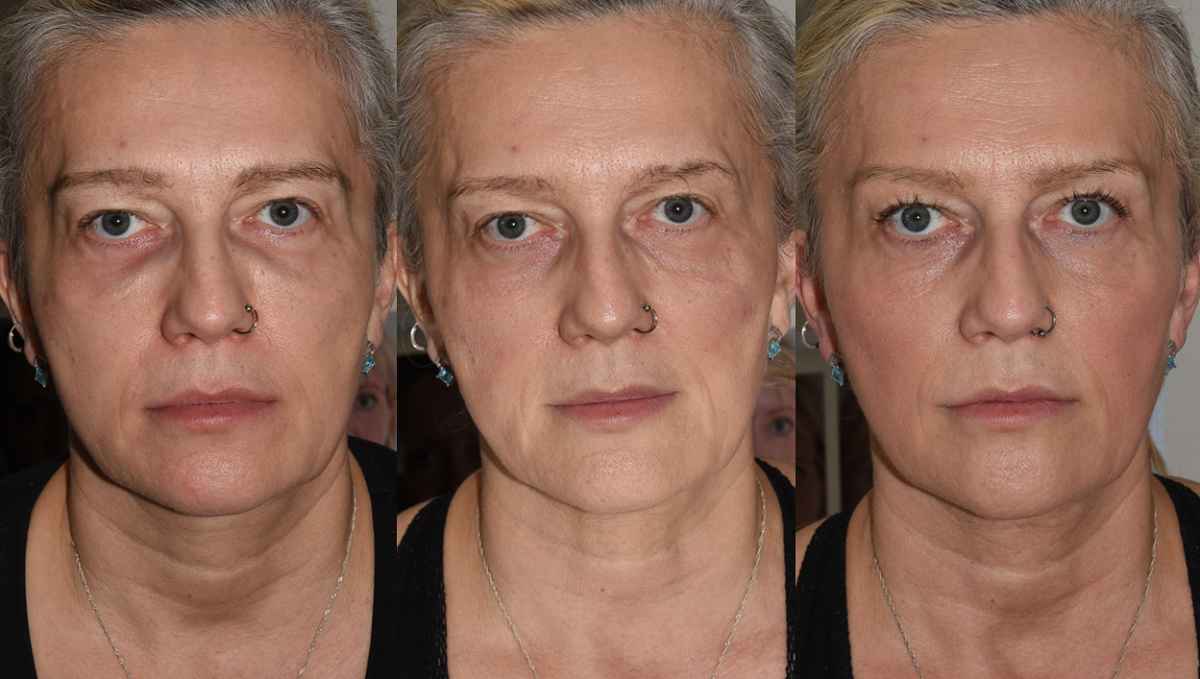 Conclusions
I know that price is very important and we are all looking for a better deal. But there is a difference between when you buy a product that you can return even with a small loss, and your face/health that can suffer irreversible damage if you make the wrong decision.
When it comes to your health and look search for reputable, well-established clinics with good social feedback, professional body memberships, regular appraisals, insurance that protects you as a patient.
Always start with an initial consultation, don't rush your first treatment. Educate yourself in the treatment modality you are looking for. Read about Fillers and Botox before you make any decision. You can even check out my Safe Aesthetic Treatments Campaign to read more about the safety of cosmetic procedures and how you can protect yourself as a patient.
You have to put in the work. Once you have found a reliable practitioner that you can trust, who is accessible, especially when you need them and delivers good results in the long run in a safe way, then you can enjoy the benefits of these well-proven non-surgical cosmetic procedures.
PS
Ildiko has just sent me this picture with a lot of smiles. She is so happy looking good again 🙂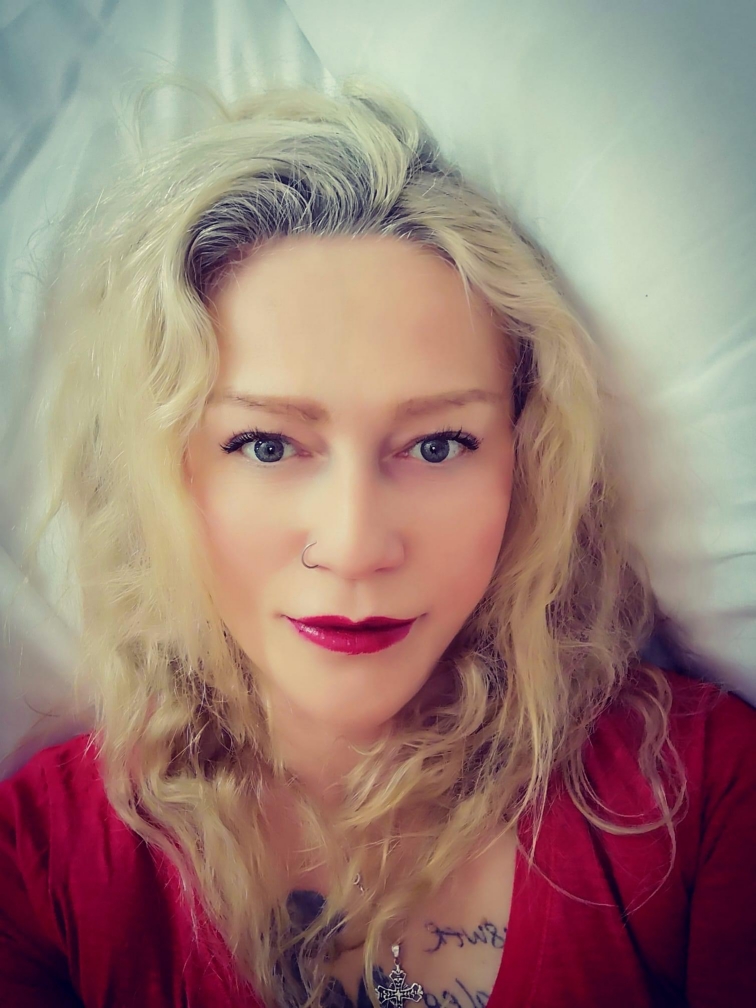 Follow up
Dr Bela presented the case at a training event.