Chin fillers at The Hogarth MediSpa, West London
The dermal filler treatment of the chin is very rarely asked for by patients, but they are very happy once it is done. The volume loss in the chin area is part of the ageing process. The chin supports the lips and its treatment pulls up the skin from the neck, so the treatment has many direct and indirect benefits.
I would like to draw your attention on the image below, which wasn't treated at all. This is the 'indirect approach' again when treatment of a certain area has beneficial effects on others. In this case, the cheeks and the chin were treated and the lips became fuller as well.

I usually treat the chin with micro-cannulas which is a safe approach and saves many needle pricks, because a relatively large area can be treated from a single entry point. There are several strategic points on the chin as well as other areas of the face. Addressing these points results in an overall improvement of the chin, lower face and neck. The image below shows the 6-point chin reshape developed by Mauricio De Maio, a Brasilian plastic surgeon.
Dermal filler treatment of the chin can be beautifully complemented with Wrinkle treatment injections of the lower face.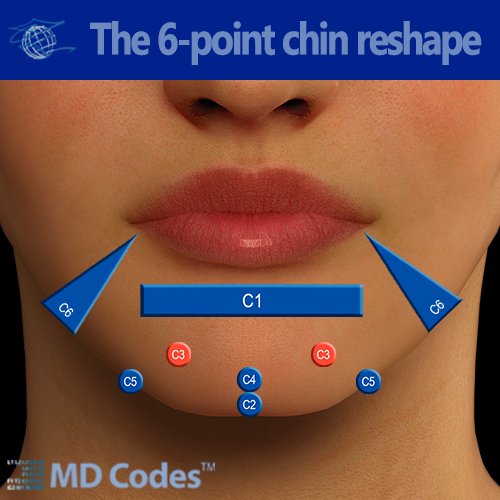 *DISCLAIMER: Individual results and their perception will vary from person to person. Specific results thus cannot be guaranteed. Please read the Disclaimer and Privacy Notice at the bottom of this page.