Rate Dr Bela Clinic and Leave a Review
Please help other patients to gain a realistic view of Dr Bela's services by leaving honest feedback or rating.
By clicking on one of the options below you can find a simple step by step guide how to leave a review/testimonial/rating.
Thank you for your contribution and for helping other patients!
I have just received this spontaneous testimonial from a patient who came for her first ever underarm Botox treatment for hyperhidrosis. I do a lot of procedures like this and patients are very happy.
Aug. 2022
"Dear Dr Bela,
I just wanted to send a follow up email from my appointment last week.
I came in for axillary Botox to deal with hyperhidrosis that I have experienced for a long time. The results since, have been amazing. Even a day or two after, I could see a difference and it's progressively got better. 
Usually, I would have to preplan what I wore everyday, especially if it was warmer or bring a top to change. This week I've been able to be in a T-Shirt no problem and not need to hide! 
I also found that you were very informative and helpful, putting me at ease for a first experience with Botox. I enjoyed the relaxed atmosphere & music!
Thanks so much,
Hannah "
I have received this lovely testimonial from a patient I have never met.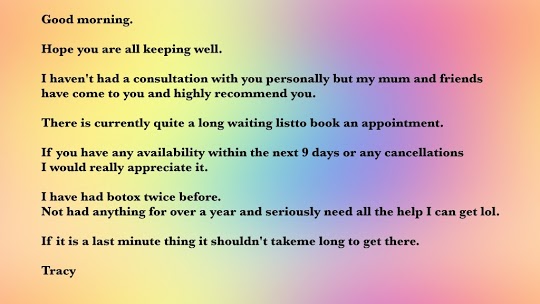 May 2021
Just received this spontaneous testimonial via text message after a Filler treatment.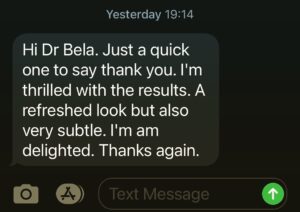 March 2021
I have just received this lovely and spontaneous testimonial from one of my long time patients. This is word of mouth in action.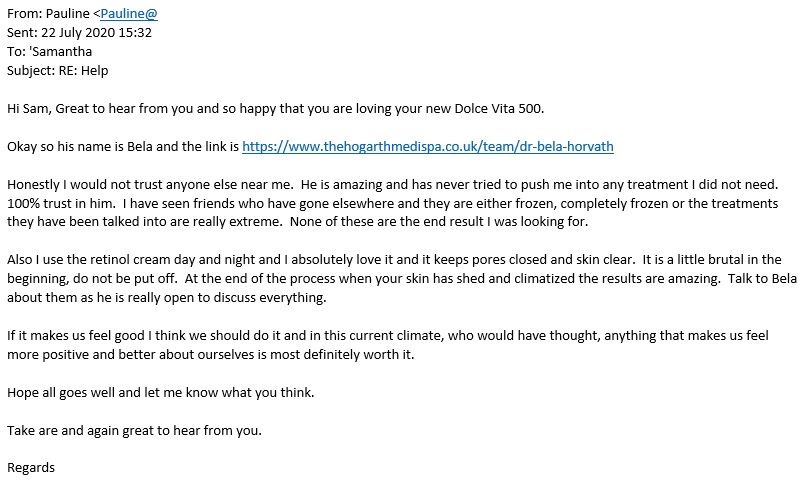 Testimonials for Dr Bela Clinic in The Hogarth MediSpa, West London
"I have been visiting Dr Bela for nearly 5 years for dermal fillers and I cannot sing higher in praises for his work.
Dr Bela is extremely experienced and takes great pride in his aesthetic treatments. He is so kind, careful and considerate of his patients wishes and desires. He looks at your face and sees it as a painting that he can improve on. He is delicate in his touch, I've never felt more than a very slight discomfort, and I have always been thrilled with the results. I'm always told how well I look after I've seen him for an appointment, and the treatment undoubtedly takes years off .
I've been other places but no one compares anywhere near to Dr Bela's expertise.
I trust him completely and I'm proud to have him as a friend and confidante."
J.C. London Nov 2019
Just received from one of my Dermal Fillers patients:
"I saw Dr Bela for the first time about five years ago for filler injections. In the beginning I didn't quite know what to expect but the results over the years have been excellent. Dr Bela is an attentive listener regarding my expectations and he also makes very good suggestions. The actual treatment is always a pain free experience. It's important for me that fillers give me a natural looking 'refreshed' face as if having been on holiday and any changes are subtle enough not to suspect that I had anything done. I have always been very satisfied with Dr Bela's work. I can highly recommended him as a very professional and skilled practitioner. "
M.D. London Oct 2019
Written testimonial from E.H. London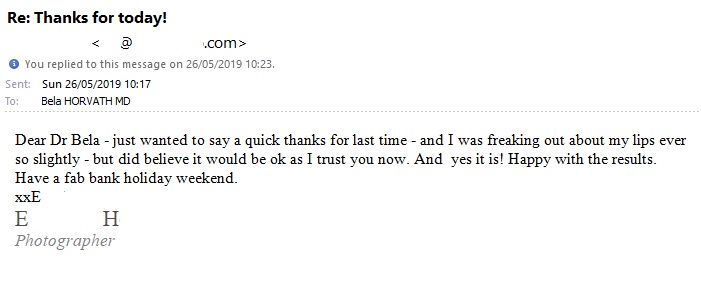 Just received an email from one of my Mole check patients:
"Glad to hear that and once again thank you for helping me so much on this matter and finally putting my mind to ease i really appreciate it and can gladly say you are very professional in your area of expertise. "
Mat Z, London Dec 2017
"Dear Dr Bela
I wanted to thank you for your time and great care yesterday. I have never before had such a pain free experience with such excellent results. I have had no bruising or swelling at all and my skin looks great.
You have definitely gained a new patient and I feel I am in extremely professional and competent hands.
Kind regards, Jayne C"
This is not a testimonial:
I have a patient today in her late sixties for dermal fillers. It was her first treatment for cheek fillers. Usually, I start there because cheeks are the backbone of the face: they support the upper face and lift the lower face, thus the treatment has paramount significance.
When I finished, she sat up on the treatment couch, looked into the mirror and started to cry. I carefully asked her whether it is good or bad? She said, it is good; she is so grateful.
How interesting it is: when I saved someone's life by finding an early stage melanoma at my mole check, I have never ever received such an incredible response; the 'tears of satisfaction and happiness' that I can achieve by fillers.
This is the power of our look.
Dr Bela
I proudly share a new testimonial from Ashley with you:
"I am a patient of Dr Horvath, my treatment includes Wrinkle treatments and dermal fillers. I could not be more pleased with my results, Dr Horvath listened to exactly what I wanted and has given me excellent results. He was professional, caring, understanding and very precise. I highly recommend him and his staff at the Hogarth Medispa."
A testimonial from Fiona, London October 2017
My experiences have always been wonderful with Dr Bela. He excels himself every time I see him. He studies my face while asking what I expect and tells me what I can achieve. He has never overfilled or allowed me to have any procedures that he felt in his professional capacity were not in my best interest. He always asks if I am in any discomfort and tells me what he is doing as we go through the procedure. I have been using Dr Bela now for the last 3 years and have no intention of seeing another practitioner. I would definitely recommend him and have done to my friends.
Dear Dr. Bela,
I am safely back in Dubai now and would just like to thank you for such a fantastic consultation and I am very pleased with the results.
I will be in touch as to when I will return to London – hopefully before the end of this year.
I will make an appointment prior to my next visit to UK so I can book a mole check too.
Have great week
Kind regards
HS
22.08.2016
*DISCLAIMER: Individual results and their perception will vary from person to person. Specific results thus cannot be guaranteed. Please read the Disclaimer and Privacy Notice at the bottom of this page.