Juvederm VOLITE is an innovative Injectable Treatment using VYCROSS® technology Designed to Improve Skin Quality for up to 9 months. The face, neck, décolletage and hands can be treated.
There is a very important point I need to emphasize here though: most of the sins of ageing are not originated in the skin, so they cannot be treated with Juvederm VOLITE in itself. Sagginess, jowls, under eye circles, nasolabial or marionette lines mainly appear due to the loss of the cushioning fat pads beneath the skin, so we need to start the treatment with some deep volumising fillers like Juvederm VOLUME.

Once it is done or at a younger age when we want to add only a little extra healthy-looking glow to the skin, Juvederm VOLITE can be used. It is a Hyaluronic Acid (HA) gel designed to improve skin's smoothness (absence of fine lines), hydration and elasticity for up to nine months with just one treatment.
Global research shows more than half of women say the appearance of skin contributes to their outer beauty.

The treatment with Juvederm VOLITE
It is an injectable filler which should be placed to the deep layers of the skin point by point, so it involves multiple injections across the treatment area. For better comfort, the application of numbing cream is recommended prior to the treatment. The filler (hyaluronic acid) creates a lift to the skin and due to its cross-linked nature (VYCROSS® technology), the longevity is a good 9 month (natural hyaluronic acid would disappear from the skin within 2 days).
A full face treatment requires an average of 2 ml of Juvederm VOLITE.
Based on a study 95% of patients are able to return to their social engagements 1 day after treatment, so the downtime is minimal.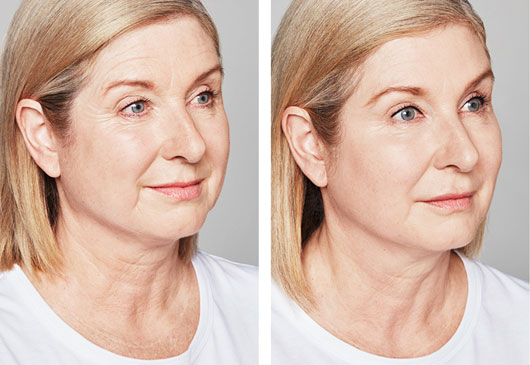 Cost: One syringe (1ml) of Juvederm VOLITE £400, two syringes £600
For more information contact the clinic or book an Aesthetic Consultation with Dr Bela straight away.
DISCLAIMER: Individual results and their perception will vary from person to person. Specific results thus cannot be guaranteed. Please read the Disclaimer and Privacy Notice at the bottom of this page.